Welcome to the 'web home' of
Shombay Rhodesian Ridgebacks !
We really hope you enjoy looking at our modest website and understand our passion, love and commitment that we have for our dogs and the future of the Rhodesian Ridgeback breed.

If you would like any more information do telephone or email us.
We would love to hear from you!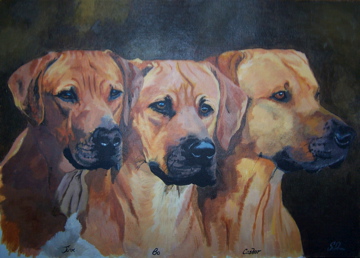 "He is your friend, your partner, your defender, your dog.
You are his life, his love, his leader.
He will be yours, faithful and true, to the last beat of his heart.
You owe it to him to be worthy of such devotion".
~ Unknown

"Warning. Once you have owned a Rhodesian Ridgeback, you will never be satisfied with anything less".
~ Major T.C Hawley

"Every dog must have a soul
Somewhere deep inside
Where all his hurts and grievances
Are buried with his pride.
Where he decides the good and bad,
The wrong way from the right,
And where his judgement carefully
Is hidden from our sight.
A dog must have a secret place
Where every thought abides,
A sort of close acquaintance that
He trusts in and confides.
And when accused unjustly for
Himself, He cannot speak,
Rebuked, He finds within his soul
The comfort he must seek.
He'll love, tho'he is unloved,
And he'll serve tho'badly used,
And one kind word will wipe away
The times when he's abused.
Altho' his heart may break in two
His love will still be whole,
Because God gave to every dog
An understanding Soul!"
(Anon)